+++ Please ask for current Corona-regulations +++
Guided tours in Regensburg
Experience the unique surroundings
visit-regensburg has been around since 2007! Experienced and certified tour guides accompany you - informatively and entertainingly.
Your contact person
Christiane Kuschel
I was born in Milan, grew up in Vienna and have been living in the Upper Palatinate since the early 1990s. I've been in tourism for over 35 years. I started out as a tour guide to Austria. There were also pilgrimage and hiking trips to various destinations in Italy and France (Rome, Cinque Terre, Tuscany, Lourdes etc.). In 1996 I decided to train as a tour guide in the city of Regensburg. I didn't just want to show tourists interesting neighbouring countries, but also the historically important Regensburg!
Because of the great demand, I started visit-regensburg in 2007 to be able to offer contact to other qualified tour guides. Since then, the program has been continuously expanded thanks to the quality and diversity of the contacts available. We can also offer many foreign languages. Since I still enjoy it a lot, I look after our guests personally as often as possible. My colleague Antonietta is now taking care of the Italian visitors.
I look forward to your requests.
english, german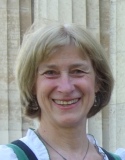 Christiane Kuschel
We look forward to your visit in one of the oldest cities in Germany. Medieval trading metropolis, residence of Bavarian dukes and German emperors, seat of the Perpetual Reichstag, the only preserved medieval city in Germany - the list of superlatives is long.
Regensburg inspires!
The surrounding area also offers attractive destinations, just think of the Walhalla, the famous Weltenburg Abbey or the Liberation Hall. With our discounted combi tariffs, you can get to know the city and selected destinations in the region.
In case your program changes - no problem for us. We do not charge any fee if you want to reschedule your appointment or the meeting point. Cancellation fees are only incurred 24 hours before the start of the tour.
Your satisfaction is important to us!
Send us an email or give us a call&nbsp(+49-175-433-6669), or download the price list.